Meet incredible startup founders from Trind VC portfolio.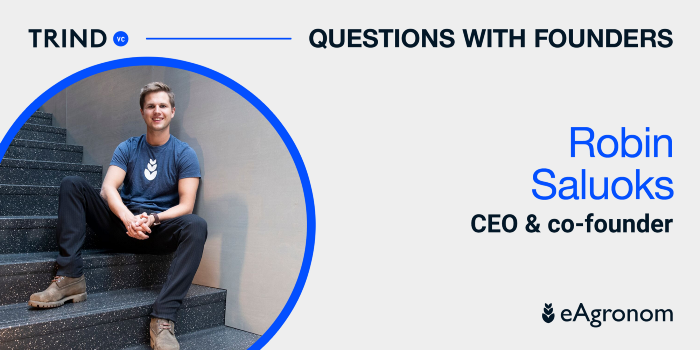 Today, we will be having a quickfire chat with Robin Saluoks, CEO & co-founder of eAgronom, an AgriTech startup that is accelerating the global shift towards net-zero. We'll dive into his learnings on his entrepreneurial journey and share the insights valuable for early-stage entrepreneurs.
---
What was the inspiration behind establishing the startup?
Farming is a part of my DNA. My father is an organic farmer in south Estonia. I saw firsthand the challenges and opportunities that farmers were facing. He would disappear for days during harvest time. He would worry about piles of paperwork and financial hardship.
Furthermore, today, farming accounts for 15% of global greenhouse gas emissions, we are convinced it could be net-zero. We have seen some farms succeed in achieving net-zero, and we believe that technology can help to scale it all around the world.
That is why we created eAgronom that brings a unique combination of services to grain farmers — the Carbon program, AI-powered consulting service, and Farm Management Software enable farmers to build sustainable businesses and preserve nature.
It's like in a Matrix. I guess we took the red pill while starting this company! And we won't stop before farming is net-zero.
What have been the biggest challenges for you in the first years?
Focus. Or more precisely, lack of focus. There are always more opportunities than resources — choosing the right ones and having the courage to say no to some is a big challenge.
We went to five foreign markets at the same time after initial success in the home market. It was too much. Definitely too much. We took some loss. Having understood this, we narrowed the focus, which allowed us to refine the market-entry model and scale faster later.
Why now is the time for your company?
For the first time ever — sustainable farming can be profitable short term!
The carbon credit market is expected to grow 100x during the next 8.5 years, while the green loan market is doubling every year. These developments together with technology bring opportunities to farmers that just simply didn't exist 3 years ago.
Newmarket conditions reshape the agribusiness market and bring opportunities to new players with improved skillsets (read technology).
The market is ready and so are we!
What would be one piece of advice you could give to the early-stage founders?
Just keep moving and learning! If you decide not to give up and are open to learning, then success will be there eventually. If you don't learn then you continue the same failure all over again.
If you give up, then it's the end of everything!
Just keep moving forward!
What are your favorite books? Podcast? Any other sources of inspiration and new ideas?
My three highlights are the Hands-on agronomy by Neal Kinsey, the novel The Fountainhead by Ayn Rand, and 4 Obsessions of an Extraordinary Executive by Patrick Lencioni.
Which ideas and learnings resonate with you? Feel free to share your thoughts on social media, hit up Robin Saluoks via LinkedIn or us on Twitter @trind.vc.
The article has been crafted by Daria Shepetko, an Investment Analyst at Trind Ventures.
---
About eAgronom
Founded in 2016, in Estonia, eAgronom was among the first companies globally to bring agri-carbon income to farmers. eAgronom offers a unique combination of services to grain farmers — the Carbon program, AI-powered consulting service, and Farm Management Software. eAgronom AI and blockchain-based monitoring technologies allow farmers to get paid for creating carbon credits and access lower interest rates. Altogether, eAgronom is making carbon-neutral farming profitable.
---
About Trind Ventures
Trind Ventures is an early-stage venture capital fund with a team based in Estonia, Finland, and Germany. Trind VC is investing in software startups across Europe with a focus on startups with consumer and community components.
Are you an aspiring founder driven to make a significant impact with your startup? Send your application here or reach out to the Trind team via mutual contact.
We aim to give feedback to every entrepreneur!