Meet incredible startup founders from Trind VC portfolio.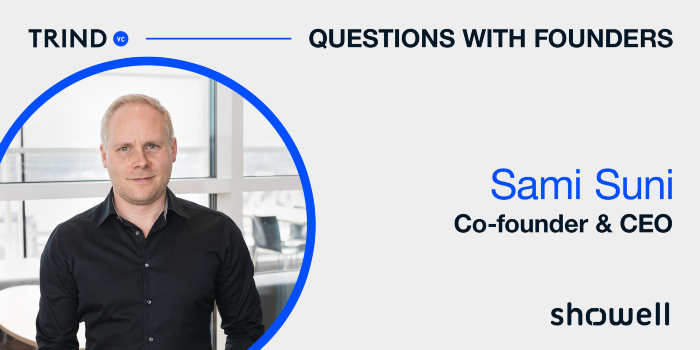 Sales enablement is reaching fascinating feats in the hybrid world. Time to meet Sami Suni, co-founder & CEO of Showell. Showell is an intuitive sales enablement platform for presenting, sharing, and tracking content, helping tens of thousands of B2B salespeople globally.
Sami shares deep thoughts about his biggest challenges and mistakes — it's worth taking some notes.
Let's begin 🚀🚀🚀
---
What was the inspiration behind establishing the startup?
Sami: I've been an entrepreneur for my entire working life. I am inspired by creating something new and turning the innovation into a sellable product or service. Before Showell, I was working in a demanding software consultation/project business, in which I more or less had to start from scratch with every single new customer. I wanted to do something different and create a product that would evolve and get better day by day. And I've also been very interested in new technologies and the possibilities they bring. With Showell, I've been able to combine all my interests and previous experiences into one product.
What have been the biggest challenges for you in the first years?
Sami: The biggest challenge for me, and for the company in the first years, was getting everything up and running quickly enough before we would run out of money.
But also, the focus has been a challenge. As a startup, you see a world full of opportunities. Finding the right go-to-market strategy that would help us to scale faster is super hard, but important. While we definitely had a product-market fit, we were not fully focused on finding the best customers and markets. We focused way too long on the local market instead of going global. I should have been more systematic, analytical. I should have read more, and asked for help instead of trying and failing.
You gain speed by getting the right customers. By spending your time with the wrong customers, you risk losing speed or stopping completely. We definitely lost some of the speed. I would be more selective when it comes to customers.
Why now is the time for your company?
Sami: Sales Enablement is the next CRM. Every single sales organization has to find ways how they can improve their salespeople's performance. Better reporting and deal management is of course a vital part. However, the way salespeople engage their prospects and guide them through the often complex B2B buying journey is even more important.
Sales Enablement is a combination of tools and knowledge that creates a systematic process and helps every salesperson to perform multiple times better than without it. Enterprise software is the fastest-growing segment of IT spendings growing 11,5% in 2022. While the sales enablement segment is expected to grow at a CAGR of 19.5% in the next 6 years.
What would be one piece of advice you could give to the early-stage founders?
Sami: Start selling in the earliest possible stage. Find beta testers, early adopters, people who can later be your ambassadors. Try to find out if you actually have a product-market-fit or not. For instance, our second ever customer, with whom we did a proof of concept solution, is now our biggest customer. My second advice is to turn every stone to find funding and take a loan if nothing else is available.
What are your favorite books? Any other sources of inspiration and new ideas?
Sami: I don't have any single book or podcast that I could name here. I've been inspired by so many people, books, podcasts, and blogs. Even books that are not directly related to your industry or field of expertise might be very influential. For example, The Core — Better Life, Better Performance, by Aki Hintsa is a great book. It's about finding deeper meaning and balance in your life. In the end, the mission is what drives you forward and brings the inspiration you need to be successful.
Which ideas and learnings resonate with you? Feel free to share your thoughts on social media, hit up Sami Suni via LinkedIn or us on Twitter @trind.vc.
---
About Showell
Showell is an intuitive sales enablement platform for presenting, sharing, and tracking content, helping tens of thousands of B2B salespeople globally to succeed under high expectations and demands. Showell ensures instant access to supporting material for face-to-face and virtual meetings. Founded in Finland in 2012, Showell has been changing how customer-facing teams around the world engage and win customers.
---
About Trind Ventures
Trind Ventures is an early-stage venture capital fund with a team based in Tallinn, Helsinki, and Munich. Trind VC is investing in software startups across Europe with a focus on startups with consumer and community components.
Are you an aspiring founder driven to make a significant impact with your startup? Send your application here or reach out to the Trind team via a mutual contact.
The article has been prepared by Daria Shepetko, an Investment Analyst at Trind Ventures.